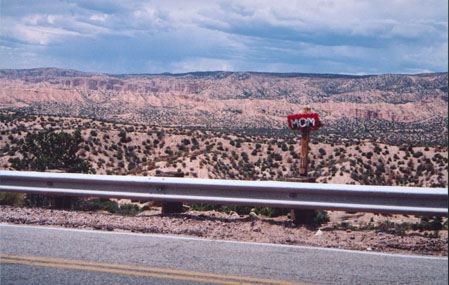 Making Space on the Side of the Road:
Towards A Cultural Study of Roadside Car Crash Memorials
With Words and Pictures
by Bob Bednar
Road/Work
It's my first day of intense fieldwork while I am based in Santa Fe. I'm at the second of many stops on US-84/285, a four-lane divided highway north of Santa Fe that is under heavy construction. I'm running a fever, and the pace of my work is making it worse.
I have just finished photographing a set of three separate crosses near a busy intersection just north of Tesuque. The three crosses are all lined up in a row just on the outside of the guardrail on the east side of the road facing northbound drivers. The first displays a Harley insignia and the name Jerry Gurule. About 30 feet ahead of that one is a five foot-tall cross that says, "MOM." Fifteen feet farther up is a cross with a bear but no name.
Standing there taking the pictures with cars buzzing by and nothing but a guardrail between them and me, I can begin to visualize why there are so many crosses here.
After filling up with gas, I take a U-turn to photograph a white cross I had seen a few hundred yards from the other three and on the other side of the road. Like the other three across the road, this memorial is just on the edge of the right of way. Unlike them, this cross is engulfed by road construction and blends into the collection of construction signs, surveyor's stakes, and recently-cleared brush. I miss it and have to circle back.
After I locate the cross again, I park in the only partially safe place I find: a wide shoulder where a group of trucks and cars belonging to the road crew are parked. I pop on the hazards and grab my cameras, hop out of the car, and run across the field of freshly graded dirt and gravel, dodging a water truck, a grader, and two front-end loaders in the process.
The cross is old, dedicated to Herman Padilla, Age 18, October 59 to February 78. The road crew seems to have left it undisturbed, but its space is entirely circumscribed.
The dash back to the car is even more daunting than the way there. "What the hell am I doing?" I'm telling myself as I approach the car. Out of the corner of my eye, I notice a white highway department truck driving up behind me on the shoulder. Its flashing lights are on. "Maybe he is going somewhere else?" I think.
I have enough time to make it back to my car and drop off my cameras before he is out of the truck and walking towards me. I meet him at the back of my car. He is wearing a hardhat and inscrutable wrap-around sunglasses. His face is sunburned. The traffic is buzzing by. His face is more than sunburned: it is angry.
"You having some kind of car trouble here?"
"No. Just taking some pictures."
"Well, buddy, this is no place to take pictures. There's a nice spot up there at Camel Rock where there's a parking lot and an overlook. Try that. But we can't have you out here like this. You're gonna get yourself killed."
The rest of the day, the rest of the trip, I feel more personally involved in a research project than I ever have before. I'm beginning to see that the connection is thematic. Early on in the project, I had wondered what was at stake in the practice of roadside memorials. Now I knew what was at stake for me, at least in the field. Roadside memorials speak in different voices simultaneously, functioning as testaments to lives lived and violently lost, but also as cautionary tales.
At each stop, I'm there on the side of road taking pictures, thinking about the memorials, thinking about the horrible scene that must have taken place, thinking about the terrible but also often beautifully indifferent scene that now sits before me, trying to read between the spaces of silence and exuberance. And at each stop--especially the ones with narrow shoulders or blind curves, or the ones buzzing with traffic--I begin to think: Someone died right here. Right here! And here I am taking a picture of it. What if I die taking a picture of the place where someone else died?
Previous | Next>
---
All Design, Photography, and Text &copy 2004
by Bob Bednar
Department of Communication Studies
Southwestern University
Georgetown, Texas 78626
(512) 863-1440
bednarb@southwestern.edu