Return to Dr. Jacob Schrum's Homepage
---
Infinite Art Gallery Video Game
This page presents a video game based on procedural content generation via evolutionary computation. The game was developed by undergraduate student Bryan Hollingsworth as part of Southwestern University's Summer research program SCOPE. The idea for the game was inspired by previous work in interactively evolved art. All art is generated by Compositional Pattern Producing Networks (CPPNs), which are evolved by the NeuroEvolution of Augmenting Topologies (NEAT) algorithm. The game makes use of the Unity game engine, and is written in C#. The source code is available here. To evaluate user perception of the game, a human subject study was conducted.
---
Executable builds of the Infinite Art Gallery

Human Subject Study Version 0.05.4 for Windows
Human Subject Study Version 0.05.4 for Mac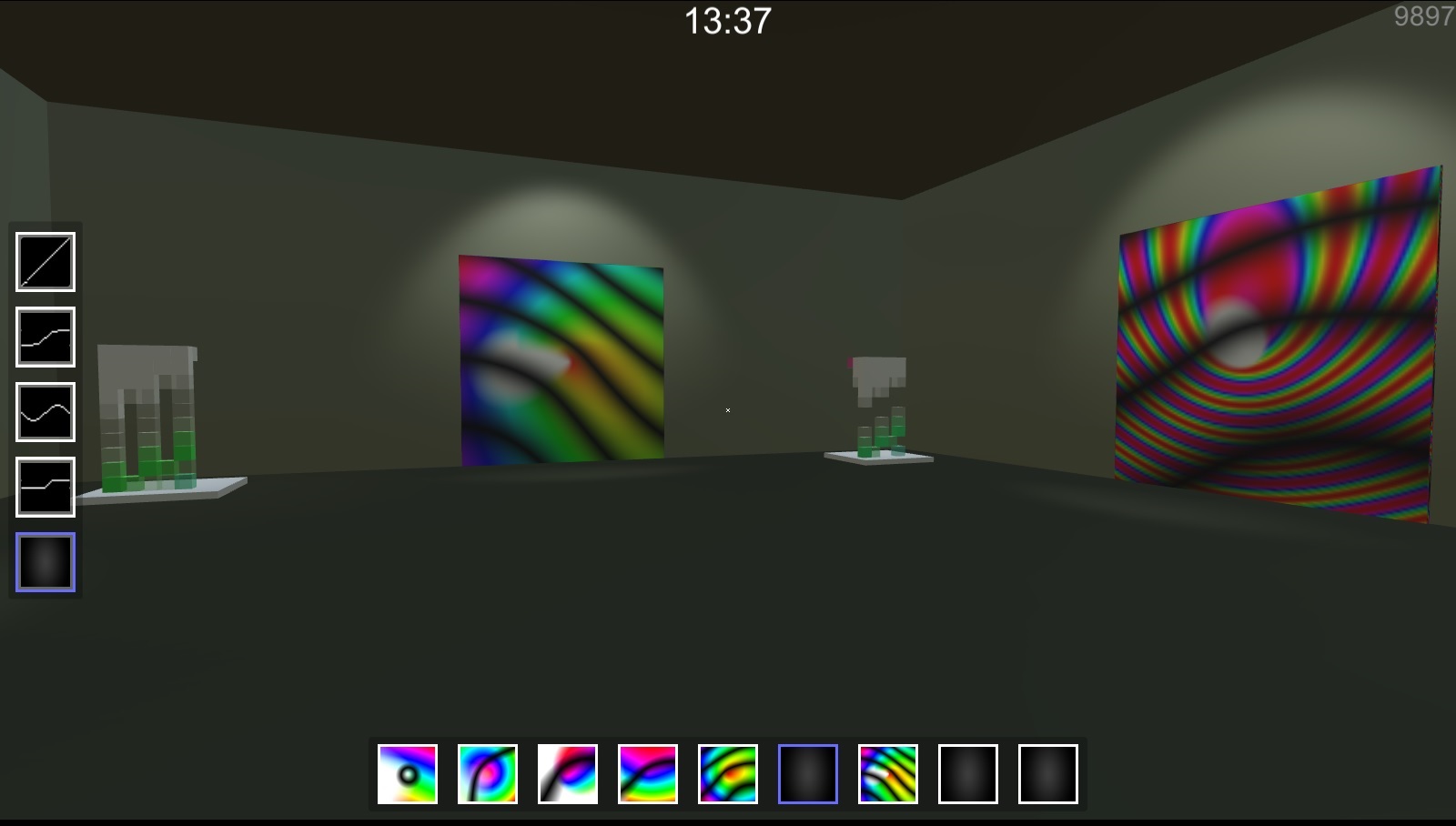 ---
Human Subject Sessions
Videos of sessions from all 30 participants in the human subject study are included in the playlist below. These videos demonstrate the rich variety of art encountered by players as they explored their own custom galleries.


---
Associated Publications
---
Peer-Reviewed Conference Publications
Anna Krolikowski, Sarah Friday, Alice Quintanilla, and Jacob Schrum (2020). Quantum Zentanglement: Combining Picbreeder and Wave Function Collapse to Create Zentangles, EvoMUSART: International Conference on Computational Intelligence in Music, Sound, Art, and Design. (presentation, slides, art, software).
---
Dagstuhl Reports
Sebastian Risi, Alan Blair, Bruno Bouzy, Nantas Nardelli, Tom Schaul, Jacob Schrum, and Vanessa Volz (2020). The Leonardo Project: Open-ended skill discovery, Dagstuhl Reports: Artificial and Computational Intelligence in Games: Revolutions in Computational Game AI (Dagstuhl Seminar 19511), Volume 9, No. 12, pages 86 - 88. Editors: Jialin Liu, Tom Schaul, Pieter Spronck, and Julian Togelius. Schloss Dagstuhl--Leibniz-Zentrum fuer Informatik
---
Undergraduate Poster Presentations Supervised
---
Associated Movies and Images
---
Miscellaneous Content
---
Last Updated: 5/28/2019